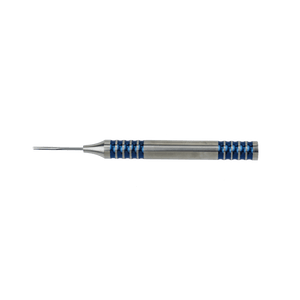 The Straight Flexible Periotome is a specialized dental instrument designed to cut the periodontal ligament (PDL) during tooth extraction procedures. The flexible, straight blade allows for precise and controlled incisions, which minimize the risk of chipping or breaking the tooth. This periotome's unique design ensures that it can reach the apex with ease, making the extraction process more efficient and less traumatic for the patient.
Made from high-quality stainless steel, the Straight Flexible Periotome is a durable and long-lasting tool that can be easily sterilized for clinical use. Its ergonomic handle provides a comfortable and secure grip, reducing hand fatigue and improving accuracy during the procedure. The periotome's flexible blade ensures minimal damage to surrounding tissues, making it an ideal tool for dentists who want to perform tooth extractions with greater precision and safety.
Overall, the Straight, Flexible Periotome is essential for any dental practice that performs tooth extraction procedures. Its unique design, high-quality materials, and ergonomic handle make it a reliable and efficient instrument that can aid in the successful extraction of teeth.
Features: 
• Made of high-quality stainless steel.
• Thin sharp, flexible blades. 
• Precise and reduces the damage of the periodontal ligament.
• One year warranty
The Straight Flexible Periotome is included in the Flexible Periotome Kit and Atraumatic Extraction Kit - 8pcs Luxating Periotimes Apical Retention Forceps Serrated Curettes